Bitdefender is an internet security company based in Romania, where it was first founded back in 2001. The founder of the company still remains as its CEO and has supervised the growth of their antivirus software since it started development during the beginning of the century.
The Bitdefender antivirus is widely regarded as one of the top 5 best antivirus software in the world, protecting hundreds of millions of computers from all around the world.
You probably know how many viruses are out there waiting for you to become a victim of their malicious programming, so having a solid antivirus such as Bitdefender goes a long way into helping you avoid ransomware and other malicious software.
If you want to know all of the benefits that you'll get with a Bitdefender subscription, stay with us throughout this review as we break down all of its features, pricing, and other important information.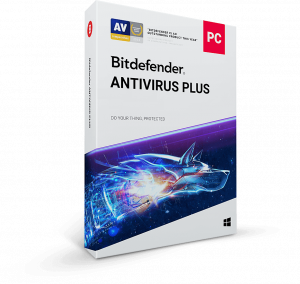 Bitdefender Antivirus Overview
Bitdefender is currently regarded as one of the top 5 best antivirus software in the world, thanks to the continuous anti-malware protection that doesn't cease as long as the program is running. Users with slow computers don't even need to worry about the effectiveness of the software thanks to the GPU-friendly processes of Bitdefender.
If you've tried other antivirus software before, you probably know how inconvenient it is to get constant false positives while browsing the internet. Bitdefender is one of the most accurate programs when it comes to detecting malware, which means you won't be prompted with false positives too often when you go online.
The newer versions of Bitdefender come with a very good-looking dashboard that maximizes ease of access while browsing the menus of the software. Some other antivirus software, although very effective, feel wrong when looking at the menus. Some developers don't pay too much attention to the design of their software but focus on effectiveness, which is a critical error nowadays.
With Bitdefender you get a bit of everything that's good in any antivirus software and just a few things that aren't as good as we would've liked. We'll go into further detail on this when we discuss the Bitdefender pros and cons further in this article.
Bitdefender Extras
The program also includes a ton of additional features that help you enjoy a better experience when using the antivirus. For example, there's an included VPN service with your subscription, which helps you get a safer browsing experience by hiding your IP from malicious websites.
You can even select which of these features you like to see on the dashboard of the Bitdefender antivirus. The menus are fully customizable, and you can simply input which options they will show. In fact, the dashboard comes with some presets that you can change – it shows the quick scan option and the VPN when you first boot up the software.
Bitdefender Antivirus Pros & Cons
It's always important to understand the benefits and drawbacks of any antivirus software before purchasing its services. Committing financially to an antivirus likely means that you'll be keeping it around for a while, and although Bitdefender is a trustworthy partner, you'll want to know what it does and which features are lacking before purchasing any plans.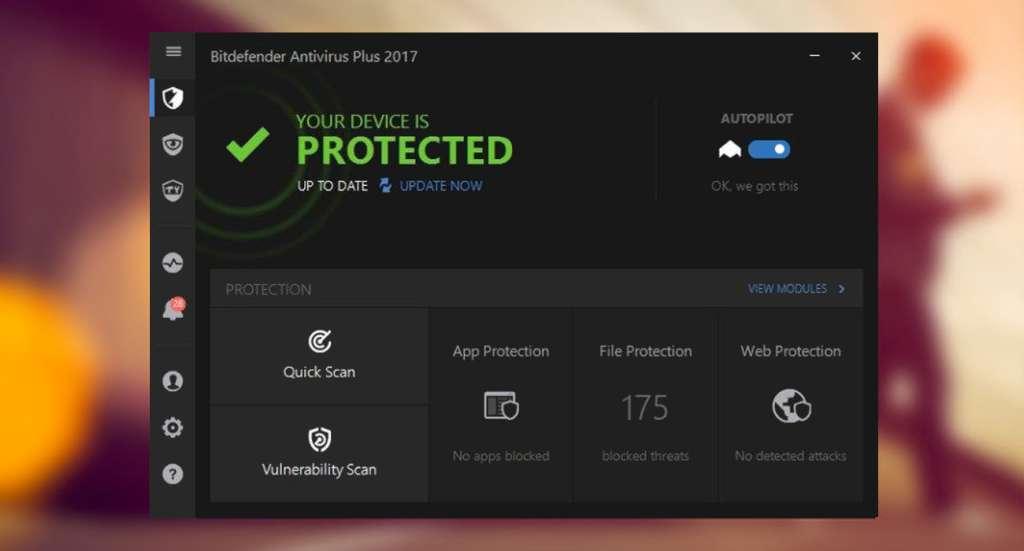 Bitdefender Antivirus Pros
Bitdefender malware protection is second to none. Few programs are as good at blocking threats as this antivirus
This antivirus software can run smoothly even when your computer (or any device) is running multiple tasks at once
Comes with a built-in VPN, further expanding its defensive features
Includes parental controls
Bitdefender Antivirus Cons
During the first scans, Bitdefender takes a long while to fully determine which files are infected and which files are clean
Although the program does a good job at blocking and quarantining threats, certain targeted attacks could slip past its defenses
Why Choose Bitdefender Over Other Antiviruses?
If you're going to choose Bitdefender, you're selecting one of the best antiviruses of 2019. Even the most basic Bitdefender plan includes a built-in VPN, and even though it doesn't allow you to freely browse the internet (it comes with a 200 MB daily limit), it offers more than what its close competitors do.
You can even create profiles while using Bitdefender, which allows you to avoid phishing scams on the internet. The benefits that you get with Bitdefender are just too good to be overlooked – even when comparing it to some of the other best antivirus software on the market.
Another reason to choose Bitdefender over other antivirus software is simply that it offers the best basic protection out of them all. Those looking to avoid spending big on an antivirus might want to seriously consider purchasing the Bitdefender basic plan.
Bitdefender Antivirus Protection & Performance
Bitdefender has successfully passed countless of ransomware tests. This antivirus is designed to specifically get rid of ransomware and quarantine any threats related to it, and it's not surprising that the software has performed almost flawlessly when faced against every type of ransomware threat.
The program doesn't only block known threats, it also analyses patterns and trends to protect your devices against new ones.
When facing regular threats, such as trojans, spyware and adware, Bitdefender has also outperformed almost every single product created by competitors. The amount of protective features that it offers is second to none, and countless tests have demonstrated just how powerful the Bitdefender database and pattern analysis are.
Furthermore, the product is able to perform flawlessly when your computer is running other programs while scanning for viruses. Bitdefender doesn't use a ton of GPU power to process information, which frees up a lot of space and allows you to use your devices as you please while getting the best protection that it can offer.
Cleanup Process
One of the few issues with Bitdefender is that the cleanup process isn't as efficient as it should be. Although the most dangerous parts of the malware are usually deleted, sometimes the Bitdefender cleanup might leave some files behind. These files are harmless, but they still take space from your computer.
Bitdefender Antivirus Features
Before purchasing the services of any antivirus software, you'll need to be clear on what features it offers. Bitdefender has a wide variety of features at its disposal, like some of the ones we mentioned already (such as the VPN, for example).
Furthermore, Bitdefender comes with a few different scan options that adapt to your specific needs. It comes with a Quick Scan feature that evaluates the state of your drives quickly, but it also has a Full Scan feature that offers a complete evaluation of present threats in your device.
Bitdefender isn't as easily configured as other competitor products are, though. For example, Kaspersky and Avast offer more maneuverability when it comes to choosing automatic scan times, exceptions, and other relevant features. Nevertheless, Bitdefender can be tweaked and modified to suit your specific needs.
There's also one more feature that most people will much likely appreciate: their personal information storage program. Bitdefender comes with a special password manager that safely keeps track of all of your precious information and protects it from hacker attacks. It can store website credential, bank login details and much more.
File Shredder
Just like AVG, Bitdefender comes with a built-in file shredder that completely disposes of any information that you don't want to keep around anymore. Not every modern antivirus software includes this but having it around could certainly keep your computer running smoothly without having to constantly defrag your HDD.
Bitdefender Antivirus Costs & Bitdefender Plans
Bitdefender has a ton of plans at your disposal. Surprisingly enough, the effectiveness of the software doesn't translate into a hefty price. You can purchase their most basic paid plan at just $24 a year. Their plans escalate in price and features, going up to just short of $50 for their Family Pack, which includes licenses for a bunch of devices at once.
We've come across much more expensive and less effective antivirus software before, so it might be a good choice if you're considering investing some money on Bitdefender's services.
You can obtain more information on Bitdefender's price by visiting their website, which you can do by simply following this link.
Our Final Verdict
It doesn't matter which device you run Bitdefender on, you're almost guaranteed to have an incredible malware protection software running smoothly at all times. This antivirus is one of the best programs we've tested in what refers to keeping you safe from phishing scams, adware, spams, and other types of malicious computer programs.
The newer versions of Bitdefender are very good thanks to the improvements that the developer has made. Their services are second to none, and their additional features are nothing short of incredible. Even their VPN is developed by the same makers of HotSpot Shield, one of the most popular VPN providers in the world.
If you're looking for a cheap and reliable antivirus option, be it for your own benefit or for your whole family, Bitdefender is probably a good bet.