Are you looking for the best antivirus to protect your computer from internet-lurking malware? Norton offers very cheap plans for users with a single computer and affordable antivirus plans for companies. It's an overall complete option which gives users the ability to keep their computers protected from all sorts of threats.
Norton also offers discounts for customers that choose to use more than one device with their antivirus plan. The license prices are more than fair and you can easily protect all devices in your home without having to break the bank for it.
If you want to know how effective Norton antivirus is, or if you're interested in the product and want more information about it, keep reading our complete Norton antivirus review.
Norton Antivirus Overview
The Norton Antivirus has been around for quite a while. Since the foundation of the company back in 1991, Norton has become a household name in the antivirus software industry thanks to the high-quality protection that they bring to users all around the world. Their services are being used by thousands of companies and family households from every corner of the world.
The Norton Antivirus originally started as a PC exclusive program, but the company has turned it into a large program that now covers iOS devices as well as Android phones and other popular electronic devices.
You can purchase many different antivirus plans from Norton. They have different plans designed to suit the individual needs of each buyer. Their most popular plan (known as Norton Antivirus Basic) costs just short of $15 a year and offers everything you need to keep your computer protected. It doesn't include a bunch of additional tools or features, but it will keep your devices safe from malware attacks.
Norton Extras
You can also purchase the service of other Norton extra components, such as a password manager and improved security for internet browsing. The product's popularity is mainly due to the number of features that it offers, as well as the discounts that Norton gives you if you want to purchase more than one of its services.
Norton Antivirus Pros & Cons
As with any modern antivirus software, there are a few pros and cons that you need to take into consideration before financially committing to Norton. The product is one of the best antivirus software that we've tried, but it's still worth noting that some things might not please every buyer. Read our list of Norton pros and cons carefully before purchasing.
Norton Antivirus Pros
The malware protection offered by Norton is sure to keep your devices safe from almost every threat that pops up while browsing the internet
The Norton premium packages come with a ton of extra features, including online data storage with extra protection
A very good interface allows users to browse the program freely, select features as they please, and always feel like they're in control of the software
Supports most modern devices and platforms without compromising performance
Comes with the option to purchase additional protective tools to further increase the security of your devices
It's reliable and constantly updated
Norton Antivirus Cons
Norton doesn't have a free trial, which makes you commit to the software financially without trying it first
Although the program protects you while browsing the internet, it doesn't come with a secure web browser like other antivirus software
Why Choose Norton Over Other Antiviruses?
The services offered by Norton are often selected over those you get from other antivirus providers because of the high-quality service you get with the company. Likewise, it helps that Norton is a household name and an already established member of the antivirus industry.
The praise they get for their services is well-earned, though – their protection is on par with some of the best antivirus platforms on the planet, as for example Kaspersky or Avast.
Guaranteed Security
Norton offers more security and protection than some of the most popular programs on the web. In fact, the Norton database is constantly being updated with new threats, allowing your computer to stay safe even when new viruses show up on the internet. You'll get constant warnings and notifications to inform you when your devices are being affected by threats.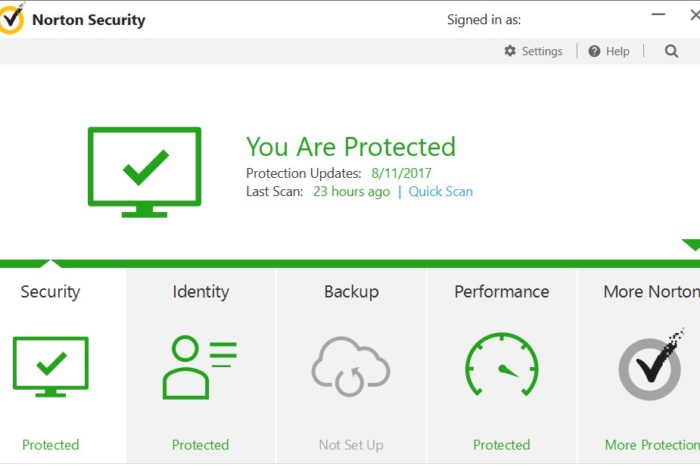 Multiple Features
You might find that some of Norton's competitors offer discounts according to the number of licenses that you choose to purchase. Norton has a different strategy: They present you with premium plans that cover all of your needs with a ton of extra features to choose from.
Constant Security
The constant barrage of updates that the company gives to Norton Antivirus shows how committed they are to keep you protected at all times. You won't have to worry about spyware or other intruders trying to access your computer as long as you keep Norton running.
Norton Antivirus Protection & Performance
Norton is one of the highest rated antiviruses in the world. There have been plenty of tests made to compare the protection efficiency of the most popular antivirus software and Norton always comes out inside the top 10 most effective antivirus software. In fact, Norton is capable of protecting a whopping 99% of the threats you encounter online.
That's not even taking into account other basic malware that you find online. Against common malware (malicious trojans and other sorts of annoying files), Norton has an efficiency rating of almost 100%.
The software is not only an amazing device protector, but it also works in a way that allows your computer to stay running at full efficiency while the software keeps it protected. Norton doesn't slow down computers at all.
The program removes all malicious files and places them under a quarantine folder, where you can evaluate where the threat was found and what it would do to your system. If you feel like the threat found by Norton is a false positive, you can remove it from quarantine and add an exception to keep the file in your computer.
Full Analysis
When Norton detects a threat, the program gives you a full analysis of which type of virus is trying to make a living in your system. Thus, you can properly evaluate everything related to the malware before deciding what to do with it.
As with any other antivirus software, Norton might let some things slip or register certain clean files as viruses, prompting a false positive. If you know that the program that you're trying to run is safe, you can tell the program to let it run and exclude it from being censored again.
Norton Antivirus Features
The Norton Antivirus Basic plan comes with a ton of options dispersed throughout the initial menu layout. You might think that these options are a bit too much at first but fear not – Norton has a bunch of guidelines and it will always keep you informed of the functionality of each feature.
Regardless, the most complex and advanced plans come with more features than the Norton Basic service. You shouldn't have any issues navigating through menus or telling the antivirus software to do what you need with a quick glance of its well-presented features.
Norton doesn't allow extremely in-depth customization of scanning, unlike other software providers offer. Nevertheless, the normal scans that you can do with Norton are as powerful as you could wish for. The only issue is that you can't tell the antivirus software to locate certain threats in a specific location. It'll perform a full scan before telling providing you with results.
There are also other options, such as the Norton Insight, which detect root problems in your system which could be the cause of certain viruses. Overall, the program offers a lot of functions that will help you improve your computer's performance and keep it from external threats.
Norton Antivirus Costs & Norton Plans
Although Norton has fairly reasonable prices for their antivirus software, they don't really allow support for multiple devices within a single plan. However, there's a lot of versatility regarding the prices and different plans.
You can purchase their basic plan for just under $20 a year, their standard plan for $35 a year, their deluxe plan for $40 a year and their premium plan for $50 a year.
If you want to know more about Norton's prices and specific information about what they offer, feel free to visit their website by following this link.
Our Final Verdict
If you're looking for a reliable and safe antivirus program to keep your computer protected from malware of all sorts, Norton Antivirus is exactly what you're looking for. Big name companies might also want to opt for this antivirus if they can afford it, while smaller enterprises might prefer choosing a cheaper option to save up some money.
However, if you can afford it, Norton is a safe bet when it comes to choosing a reliable and easy-to-use software. All you need to do is purchase one of their plans, follow the setup process and enjoy browsing the web safely.