Although Total AV isn't regarded as one of the best antivirus software on the planet, it still manages to offer most of the features that you'd want from a top-quality antivirus program. In fact, it comes close to what some of the market's finest products are offering and matches most of them in protective capabilities. It might be safe to say that a lack of marketing has played against Total AV's popularity.
This user-friendly program is one of those pieces of software that just feels very easy to use. An intuitive menu and a lack of complex features are making this program rise in popularity by the day. If you're in need of antivirus software that won't make your computer lag while it processes and analyzes your files, Total AV could be the product that you're looking for.
However, we've found some negative aspects of the product that might not be well received by the majority of users. We'll also focus on mentioning what's wrong with Total AV as well, so you can get a better idea of how useful the program will be and if it's going to suit your needs or not.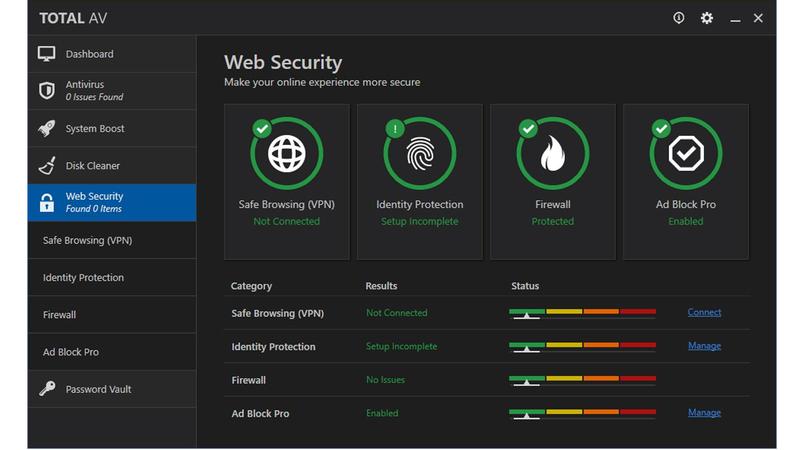 Total AV – An Overall Analysis
Wondering why you haven't heard of Total AV before? The answer is rather simple: they've only been around for a couple of years. The company itself doesn't even seem to have a Wikipedia page, but their software is oddly one of the most updated on the market. Their database is nothing short of gigantic, and the program can adapt to new threats by using this database as a data reference.
Some of the world's most popular internet security labs hadn't even reviewed this product until recently. However, the results of Total AV have matched those from the industry's finest (and even surpassed some of them in certain cases), like Avast, Norton, and Bitdefender. That's how good their software seems to be at dealing with threats.
So, if you're wondering just what Total AV is, it's simply one of the newest and most effective antiviruses to have been released in the last decade. The number of features that it offers is just what you'd expect from any of the leading industry products, so purchasing the services of Total AV basically means you'll have access to an underrated high-quality antivirus.
The Pros & Cons of Total AV
Although it's easy to compare Total AV to the industry's finest, it would be unrealistic to expect the program to perform flawlessly. In fact, every piece of antivirus software comes packed with a few bugs and performance issues – even when analyzing the attributes of the most recommended programs.
Such is the case with Total AV. In order to help you get a better understating of its features, we'll fully break down the pros and cons of the software. Refer to this list if you want to know what the benefits of Total AV are over other antivirus programs or the drawbacks of Total AV and its low points.
Total AV Pros
Your subscription to Total AV comes with an integrated VPN service, which can be used without having to pay an additional fee
It comes with a set of very complete features – although these could be further expanded, they still offer a ton of options
Everything about this software feels intuitive. You won't struggle to navigate through menus, finding certain features or even performing analysis on specific viruses
It's a great program for those looking to avoid internet phishing, regardless of who performs it (the government or external phishing hackers)
The Total AV regular scan is very efficient and finishes up very quickly
Total AV Cons
Poor scores in independent lab's malware analysis software make it not as responsive to new threats as other programs
The services of this antivirus program are rather expensive, even though they offer discounts for the first year of subscription
Some popular antivirus features are missing from this program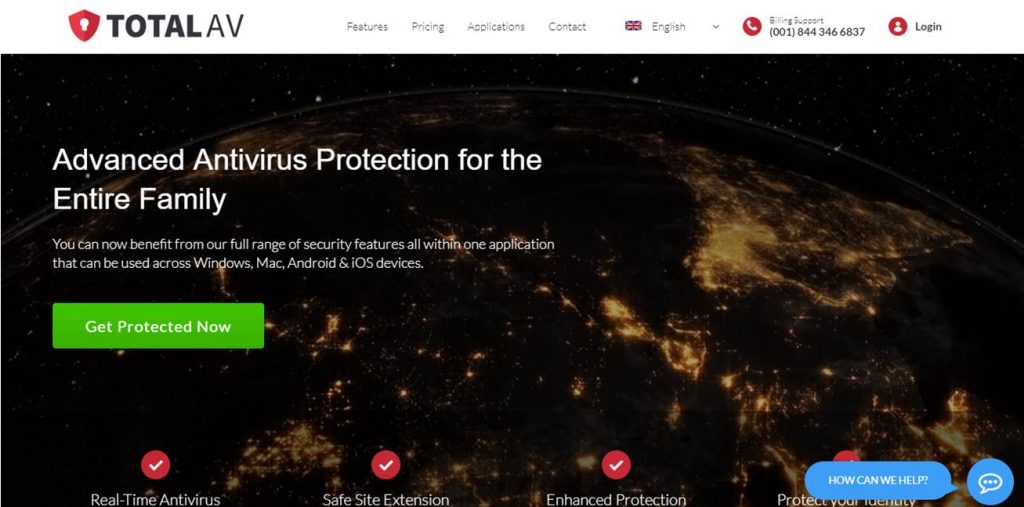 Everything That Your Computer Needs – Breaking Down All Total AV Features
As we've pointed out, some of the features that Total AV has to offer are simply outstanding when it comes to performance. To get a better idea of which features we're talking about, we've compiled this list of the Total AV best features.
Complete and Powerful Scan
Every potential threat should be easily found and later eradicated from your computer thanks to the power of the Total AV scan. The main drawback of their scan is the lack of analysis of certain encrypted files (it might not be able to detect threats located inside of protected folders), but it ultimately isn't too much of an issue because these threats are usually dormant.
The rest of the scan usually goes as smoothly as you could wish, with a threat detection capability of almost 100% in most cases.
Presentation
Most modern pieces of antivirus software are using dark themes in their menus, and there's a good reason for it: darker themes create a professional look and adds trustworthiness to every software. As such, the Total AV interface uses the same type of theme to create an easily navigated menu with options that won't overwhelm even the less tech-savviest of users.
Everything that the software has to offer is always a couple of clicks away, which means that you shouldn't navigate the menus too much before finding what you're looking for. That is after you've familiarized yourself with the program, of course – especially if you haven't played too much with an antivirus before.
Full Phishing Protection
The main reason as to why you should consider purchasing Total AV over other products is its ability to detect phishing threats. The analysis that this program gives might not be as detailed as those you get with other antiviruses, such as Kaspersky or Panda. However, the protection it gives is just as effective.
Furthermore, even though the details might not be as in-depth as with other programs, when you purchase either of their expensive plans, you are provided with a full guide that explains how to deal with threats and what to do in certain situations.
Firewall and Real-Time Protection
The combination of the Total AV firewall with its real-time protection makes this antivirus one of the most efficient at keeping your devices safe from threats before they enter your system. The free version of the program is inexplicably missing real-time protection, so we do not recommend using the unpaid version at all. We'll go into more details below.
The firewall is very powerful, and it might block some programs that you want to execute. However, it's thankfully easy to turn off and add exceptions to it.
Total AV Pricing & Plans
Total AV sounds good when reading up on all its features, and it's actually very good when you try them out as well. The main drawback of this powerful antivirus is its price. In order to purchase the services of Total AV, you'll need to shell out a considerable amount of money that you might otherwise save if you opt for one of its competitors. Let's look at their plans to better understand this.
The Total AV developers offer a free version, but we're not covering it on this review simply because the company opted to perform a relatively cheap move: they removed the real-time protection from their free product. This means you won't really get much antivirus coverage from their free version, rendering it almost useless. If you want a free antivirus, we recommend Avast or AVG.
Their plans all have crazy discounts during the first year, but then they cost a bunch of money after the second year of your subscription. Their Essential Plan costs $100 a year, their Pro Plan goes for $120 a year, and their Ultimate Plan costs $150 a year.
Better pricing and less predatory tactics would surely make this antivirus one of the most popular pieces of software on the market. We recommend subscribing to each plan on a yearly basis and then cancel your subscription. You will get a ton of protection and you won't even pay half the money thanks to their year-one discounts.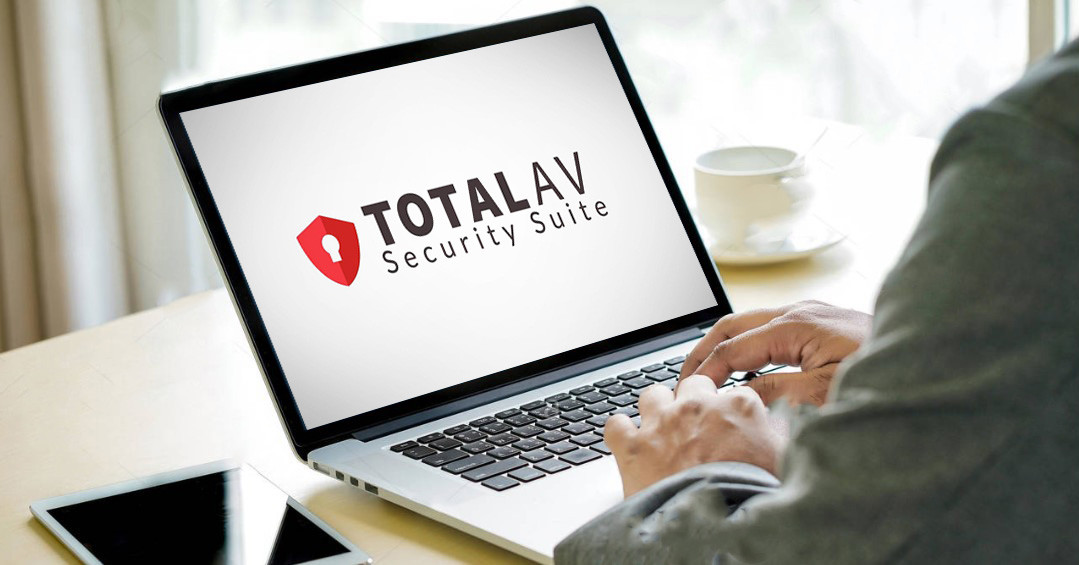 Our Final Verdict on Total AV
Total AV is a new antivirus program that packs a punch – it offers all the features that you'd expect from a top-quality antivirus, although it'll mean that you'll have to pay a very hefty fee. However, it still costs less money than some competitor pieces of software, and its quality compares to the industry's leading products in terms of protection as well as overall performance.
Total AV is a good antivirus for those who need to protect their information even if they have it stored in an old computer. The performance features of Total AV allow the program to run smoothly, even in the slowest of devices. However, there are other great options on the market – we encourage you to weigh the pros and cons of each of them to see what piece of antivirus software will work best for you.