The effectiveness of email marketing has been proven to be enormous by online marketers all over the world. Email marketing helps companies to share new promotions, attract new clients and even spread important information to their followers, which could end up being very helpful for the customers as well as for the company itself – and everyone at Constant Contact knows this.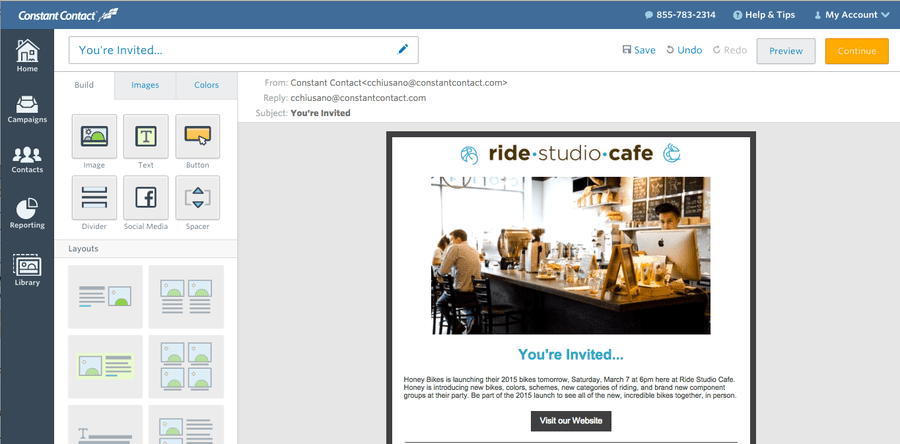 However, manually working with email marketing is incredibly painful, and the practice is far from efficient. For this reason, a lot of new programs have been developed in recent years to aid with the creation of email marketing campaigns. One of the oldest and most trusted programs for email marketing is Constant Contact.
Ever since its introduction back in 1995, Constant Contact has aimed to provide its users with many more features than its competitors. Furthermore, they constantly introduce new updates to the program, making their clients stay hooked to their services.
They currently boast over half a million customers from all around the world, and their services help small companies and big businesses alike to stay connected with their clients. Are the services of Constant Contact worth it, though? And what exactly do they offer? We'll be breaking down all of the program's features in this full guide to one of the best email marketing pieces of software.
Constant Contact Overview
Although Constant Contact struggles to get as much recognition on the email marketing industry as other competitors do, they're actually the oldest of all big names in email marketing tech. The company keeps users safe from spam by fully investigating your background before allowing you to use your account freely. This is invaluable in today's industry, as it gives your company more credibility.
In fact, you can get flagged as spam by the system even if you provide a ton of documentation to the Constant Contact customer support, which is annoying, but it does show commitment to avoid spammers using their platform.
Overall, the software is very easy to use. You have tabs that show your "subscribers", which is the name used by Constant Contact to refer to whoever will receive your emails. Emails are also very easy to import – you can import a full list of contacts from any of the most popular email providers on the planet, including Outlook and Gmail.
The platform works with integrations too, so you can work with other email providers as well if you desire. Every contact can be managed from the same page – editing and customization can be done straightforwardly.
The Pros & Cons of Constant Contact
Fighting for a place in the online marketing software industry is not easy. There are many high-quality products on the market, such as Campaigner, Drip, or SendinBlue. However, the number of features that Constant Contact offers to its users has it as one of the best email campaign programs out there.
There are some disadvantages to consider when using this piece of software, particularly when it comes to the individual price of each feature. We've made a list of pros and cons for you to look at.
Constant Contact Pros
The program comes with a ton of bonus features that you can use to complement and grow your campaigns
It's a very budget-friendly email marketing tool, and almost any company will be able to afford their basic services
You can use Constant Contact without having to worry about online tutorials or special training with the platform. Everything is very intuitive and straightforward to use
New emails and contacts are very easy to register on your profile, which helps large companies get everything ready within minutes, free of any hassle
You can try the program for free without paying any additional money thanks to the free trial feature that it comes with
Constant Contact Cons
Although the program comes with a ton of additional features, you'll be paying a premium price for it
Their most expensive plan, which allows you to manage up to 50,000 users, costs more than what other competitors charge for a similar service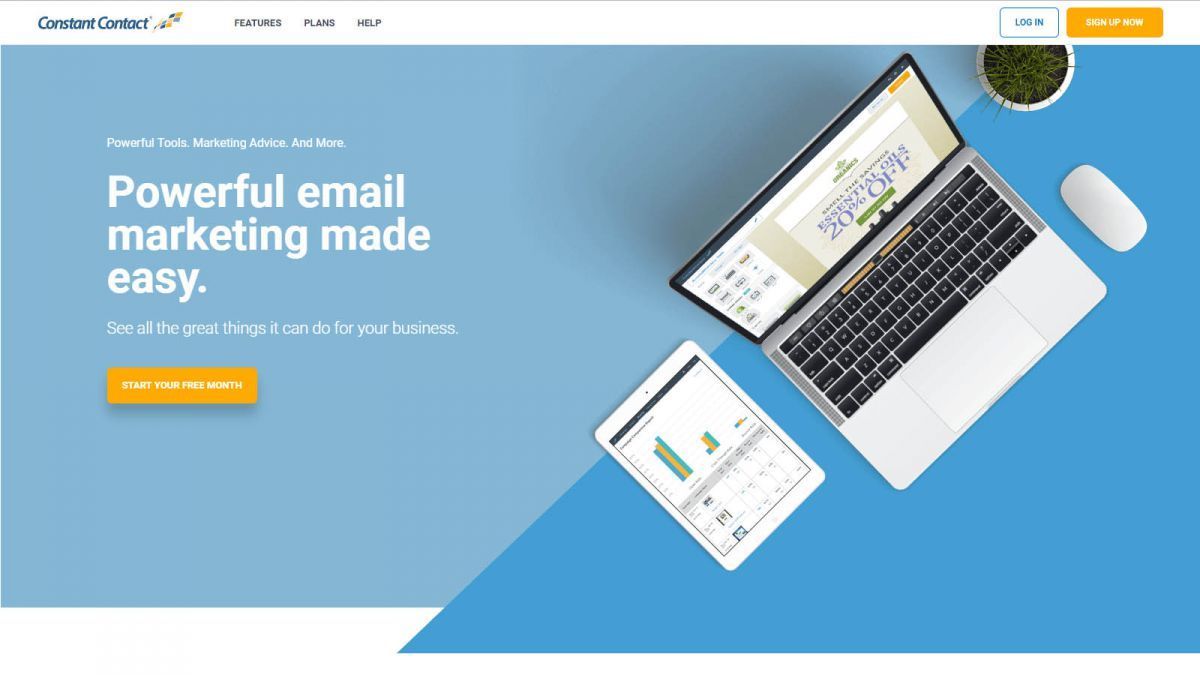 The Best Features of Constant Contact
Pricing-wise, Constant Contact is very similar to most of its competitors. However, it does offer a set of features that make it different (and, some might say, superior) than other products. You can try out most of their features thanks to their free trial, which lasts for 6 days. After the trial is over, you'll have to pay for whichever subscription you prefer.
Quick Delivery
Constant Contact lives up to its name by offering companies the chance to get their emails delivered in a matter of seconds. In fact, while other companies may have a great array of additional features available, Constant Contact outperforms them in delivery times regardless of how many tests you run between programs.
Event Focus
Even though the program can be used by big companies, you'll get the best out of Constant Contact if you work or own a small business. In fact, they promote themselves as a piece of software specially designed to thrive with small businesses.
This is also seen in the way they handle event management. This email marketing tool is one of the few tools of this regard that manages events almost as flawlessly as any competent professional. You can fully manage ticket sales, invitations and much more by simply using the Constant Contact interface and all its features.
Full User Support
Constant Contact is always emailing their users to let them know which new features are available and what to expect from the company in the next few updates. The support department goes even further thanks to the inclusion of various plugins from some of the most popular websites on the planet.
For example, you can integrate Facebook, Instagram or even Twitter with your emails by adding buttons that link to those sites. The integration process is very straightforward as well.
Automation Features
Given that email automation is probably one of the main reasons as to why a company purchases the services of an online marketing tool, reading that emails are easy to automate with Constant Contact might be the cherry on top of the cake for you.
You can keep your email list up and running at all times, without having to worry about emails not sending to some users (the program rarely bugs out, which is incredibly helpful and saves you a ton of time double checking).
For example, you can set personal emails to each profile, congratulating users for their birthdays or offering them bonuses depending on which time of the year it is. You can freely play with your autoresponders and set them to do almost anything you want.
Email Templates
Another great aspect of the Constant Contact email marketing tool is the number of templates at your disposal. You can modify any template as you see fit, of course, but it's always good to have many options at hand to bolster your creativity.
It's also important to note that every template is designed to be seen with no distortion in desktops or other devices. Thus, you cannot freely move everything inside the template, but you can change all images, colors and even text to suit the needs of your company.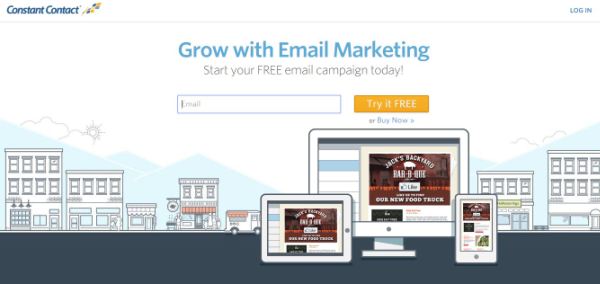 Full Campaign Control
There is a report section included within the app, which tells you everything you need to know about the progress of your campaigns. With this data, you'll be able to adjust and change whatever needs changing by supporting the modifications with data. Then, you can compare the results of your new campaign with the other campaigns you've created in the past.
The metrics also show the level of engagement that your clients have and how effective your emails have been in attracting new people to your promotions or to your website.
Constant Contact Plans & Pricing
Every plan offered by Constant Contact has the same features – the main difference between all three plans is the number of subscribers that it supports. As such, you'll want their most expensive plan only if your business needs over 10,000 email addresses for email marketing, whilst you'll be set with their cheapest plan if you want to handle less than 500 subscribers. The complete list of plans is as follows:
500 subscribers – $20 a month
2,500 subscribers – $45 a month
10,000 subscribers – $195 a month
50,000 subscribers – $335 a month
You can also purchase additional services and features, which have an added monthly cost. For example, their event management service has an added cost of up to $25 a month. Most of their plans aren't too highly priced, but it's still important to keep in mind that these plans are optional and independent from your subscription.
Our Final Verdict
Constant Contact is one of the best email marketing tools for small businesses, but it falls a bit short when it comes to managing email campaigns for large enterprises. The program gives you access to a ton of good features and analytical data that will help you get a better understanding of why some of your campaigns are more successful than others.
The developer also offers great support to their users, providing them with backup during the setup process as well as constant updates via email. You may find better prices elsewhere, but Constant Contact has been a guaranteed synonym of quality for over three decades in the online marketing industry.